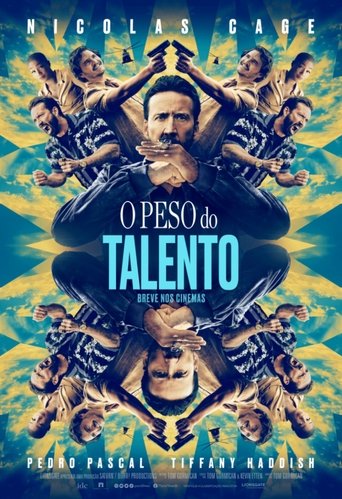 »INFORMAÇÕES«
Título Traduzido: O Peso do Talento
Titulo Original: The Unbearable Weight of Massive Talent
IMDb: 7,4/10
Lançamento: 2022
Gênero: Ação, Comédia, Crime
Formato: MKV
Qualidade: WEB-DL
Idioma: Português, Inglês
Legenda: Português
Tamanho: 1.90 GB, 6.68 GB, 15.89 GB, 11.33 GB
Duração: 1h 47 Min.
Qualidade do Áudio: 10
Qualidade de Vídeo: 10
Servidor: Torrent
ADICIONADO DUAL ÁUDIO 10/10!
SINOPSE: Criativamente insatisfeito e enfrentando a ruína financeira, Nicolas Cage deve aceitar uma oferta de US$ 1 milhão para comparecer ao aniversário de Javi (Pedro Pascal), um superfã perigoso. As coisas tomam um rumo totalmente inesperado quando Cage é recrutado por um agente da CIA (Tiffany Haddish) e forçado a viver de acordo com sua própria lenda, canalizando seus personagens mais icônicos e amados na tela para salvar a si mesmo e seus entes queridos. Com uma carreira construída para este momento, o experiente ator deve assumir o papel de sua vida.
O Peso do Talento Torrent (2022) Dual Áudio 5.1 / Dublado WEB-DL 1080p | 2160p 4K – Download
---
:: DUAL ÁUDIO ::
WEB-DL 1080p Dual Áudio 5.1 (MKV) | 2.53 GB

---
:: LEGENDADO ::
WEB-DL 1080p FULL HD (MKV) | 6.68 GB

WEB-DL 2160p 4K SDR (MKV) | 15.89 GB

WEB-DL 2160p 4K HDR (MKV) | 11.33 GB